Worst Wedding Guest EVER
A few weeks ago I was
DJing
a wedding where the bride and groom only had roughly 8 requests. Usually, if they have awful requests (Which most do) then I pretend that we didn't have time to get to them all. In this case, with only 8, I pretty much had to play them all.
Luckily they had a really good crowd for dancing. Pretty much everyone was into whatever I played. What worked well seemed to be modern rap. I don't know why, I think that it is mainly insulting. Not just to women and stuff, but to the general intelligence of the audience. With some exceptions. Jay-Z is amazing. Why him? I don't know. There just seems to be more of a message than "We got sum drinks, we drunk 'em and got drunk." (This is an actual
paraphrased
lyric from some
dumbass
song that the bride and groom wanted to hear.) Right after I played the Jamie Fox song "Gold
Digga
." The crowd of people on the
dancefloor
went nuts and continued their dancing. I am a musical
genius
. Or at least I thought.
It was then that a woman came up beside me to ask "Are you the worst F-
ing
DJ in the world?" However she didn't say "F-
ing
," she let the
expletives
fly.
Without missing a beat, I turned to her and said "Yes. Yes I
am. What can I do for you?"
She was slightly taken a back by my comment which I used to see if she was kidding or not. I soon realized she was not. "Turn this S off!" She screamed into my ear. "This music is awful. It is for druggies and low-
lifes
." I knew what she
really
meant
. She was doing everything to not be a "racist," but still maintaining "bitch."
"I'm not turning this off." I let her know.
"No one can dance to this S! This is BS!"
It was then that I looked her right in the eye and then out to the
dancefloor
and back to her. At this point there were so many people on the
dancefloor
that people were dancing on the side of it. This surely was one of my most populous crowds of the entire wedding season thus far. "It seems like THEY have found a way to dance to it." I said this in the most sarcastic, almost cartoon-like manner I could to show how childish she was being.
She stormed off. Only to stop at the edge of my table and yell "SOMETHING TO DANCE TO!!!" She then flailed her arms and legs worse than Elane
Bennis
. I thought to myself "If she is going to dance like that to 'Men Without Hats' or whatever it is she would rather I play, I think that I've made the right choice with 'Gold
Digga
.'"
I assumed she was done. I was wrong. She came back up to me moments later saying "Turn this
S off! It's only for druggies!" (By the way, who uses the term "druggies?" It seems a bit
ridiculous
. Like when you are teaching a toddler their animals you have the duckies, the doggies and the druggies?) I had enough. I told her that if she could get the bride and the groom to tell me personally to shut off this music, I would do it.
Her drunken ass looked at them and wobbled a bit as she turned to look at me again. "They told me to come over here."
"No they didn't. This was their request."
"Then they are druggies too!" She then stumbled a bit to the end of the table before she attempted to get one more dig in. "You are the worst F-in' DJ EVER."
I had pretty much had it at this point. I'm trying to make sure
someone's
wedding is flawless and this drunk bitch is yelling in my ear. In 11 years, I have never cursed
in front
of a wedding guest. Yet, this one pushed me over the edge.
"Listen up! In my 11 years of doing this, you are the worst F-in' wedding guest ever. You are going to shut the F up and sit the F down."
She stared at me, backed away and drunkenly stomped off to her seat. Probably to nag her husband who was enjoying a few minutes of quiet while she bothered me.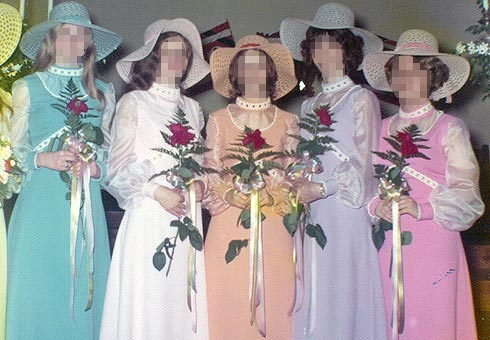 What would possess someone to do something like that? Who the hell do they think they are? I don't care if you are the bride's aunt's sister's hairdresser. You don't have enough clout to be a pain in the ass. That's reserved for the bride and/or her mother usually.
I never saw her again for the rest of the night. So, score one for me. And the druggies.